Research Summary
The laboratory continues to address questions of importance for our better understanding of cancer progression using breast and women's cancer as models with a particular focus on receptor tyrosine kinases, gene expression and chromatin remodeling (Fig. 1). Human cancer, being a polygenic disease, involves coordinated dysregulation of multiple regulatory pathways/ molecules. Though some cancers are driven by mutant versions and/or absolutely addicted on certain genes, the majority of cancer-types are not monogenic. In this context, the laboratory is addressing the following focused questions (Fig. 2): 1) validating the notion of polygenic cancer hypothesis by characterizing a set of genes with diverse known or predicted functions that are upregulated in multiple cancers, and the underlying mechanism of coordinated co-upregulation; 2) Revealing the next generation of PAK-oncobiology using an integrated proteomic and genomic strategy. The laboratory has now revealing previously unknown contribution of naturally phosphorylated orphan PAK-sites and predicted upstream kinases, and novel downstream PAK-substrates (and their genomic regulation) in PAK-biology; and 3) Use of fitness-dependency of cancer therapeutic targets to better understand the polygenic regulation of human cancer and develop superior combinational targeted cancer therapy approaches. The overarching goal is to reveal mechanistic inner-workings of novel fitness versus important molecules at the interface of multiple pathways, and use this platform to train graduate students.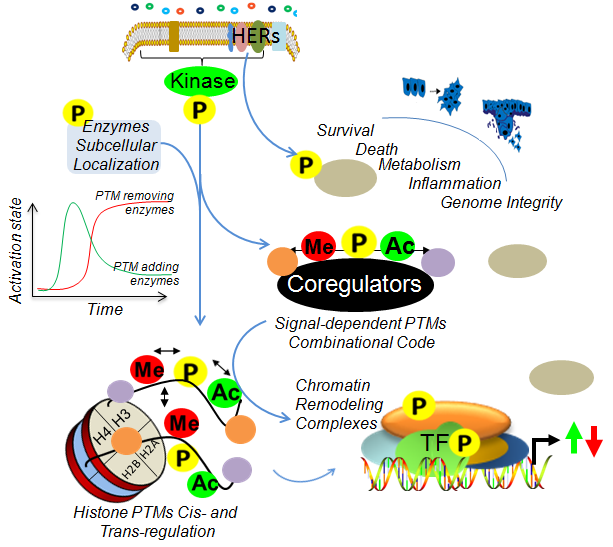 Figure 1: Schematic illustration of working research theme (adopted and modified from Oncogene 36:5917, 2017)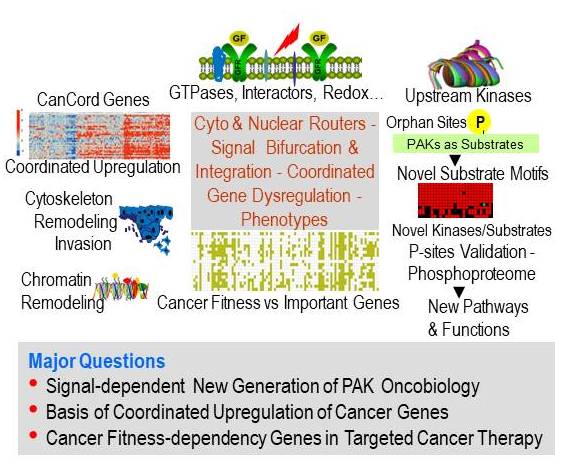 Figure 2: Research program in-brief
Research Programs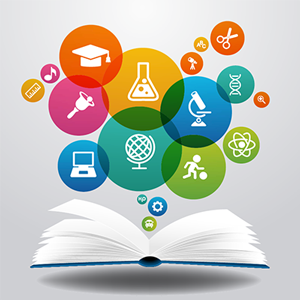 A substantial proportion of cancer cell signaling depends on oncogenic p21-activated kinases (PAKs), a group of hyperactivated kinases in human cancer – initially discovered to be upregulated and important in human cancer in our laboratory. Most of our understanding of PAK signaling in oncogenesis is largely derived from the cytoplasmic and nuclear functions of PAKs, phosphorylation of its substrates, and target downstream gene expression. These studies have allowed the PAK proteins to make in-roads into diverse dysregulated processes - many of which drive cancer progression as well as therapeutic resistance. To move the field forward, using an integrated 360-degree strategy involving creation of a comprehensive matrix of kinases, regulatome, interactome, and genomic elements of PAK Cancer Biology, Kumar lab has now identified a set of previously unknown components of PAK-network, including predicted downstream substrates and upstream enzymes for a number of orphan phosphorylation sites in type I and II PAKs as determined by their presence in cancer- and cell-line-based phospho-proteome. Candidate molecules are being validated in laboratory models. We envision that the approach adopted here will bring out new facets of PAK Biology in human cancer and would provide new PAK-centered cancer prognostic tools and therapeutic strategies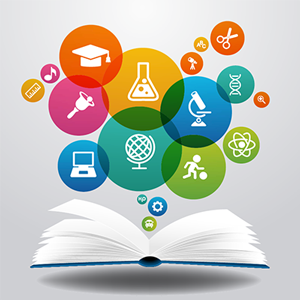 In recent years, the laboratory has started to utilize a computational biology approach to ask biologically relevant unresolved mechanistic questions in in cancer cells. Core of our approach is to bring the best of structural biology, molecular modeling and proteomics to foresee the predicted relevance to design wet-lab studies. In this context, a postdoctoral fellow is studying the nature of dynamic changes in the formation and stabilization of telomeric and non-telomeric G-Quadruplexes in response of selective molecules predicted to stabilize such G-Quadruplexes as a model system. A core goal of these postdoctoral studies is to use molecules from Ayurvedic formulations, and elucidate the fine molecular interactions between such molecules and telomeric G-Quadruplexes using bioinformatic tools, and further validate the prevalence of such interactions.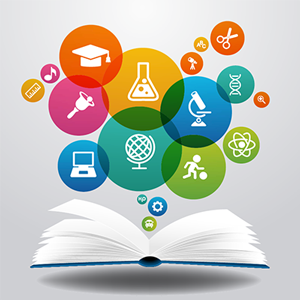 Coordinated regulation of pathways feeding into fine-tuning the decision of cell death versus survival is fundamental to the principle of cancer therapeutic index. The process of apoptosis includes distinct forms of cell death, including, programmed cell death and pyroptosis. In this context, the lab is investigating the impact of a series of rationally selected kinases and their effector substrates in modulating the ratio of cell-death and -survival. We are using this approach to modify the effectiveness of chemotherapeutic drugs and restore drug-sensitivity of cancer cells with acquired resistance.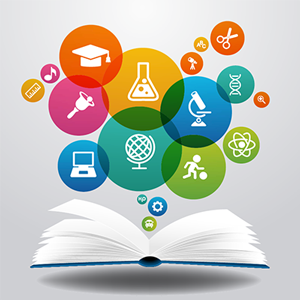 Human cancer, being a polygenic heterogeneous disease, often involves dysregulation of multiple cellular processes and the underlying regulatory pathways and molecules. To better understand the pathobiology of human cancer, one potential approach is to search for sets of co-regulated genes involved in multiple functional pathways irrespective of the cancer type. The lab is studying a set of recently identified co-overexpressed genes in human cancers, and underlying molecular basis of the noticed co-ordinated regulation of these genes in women's cancers and other predominant cancer-types. It is anticipated that co-regulated genes and/or its upstream shared regulator(s) might offer the new generation of coordinated markers for diagnosis and prognosis, and may serve as novel targets for developing novel cancer therapeutic strategies.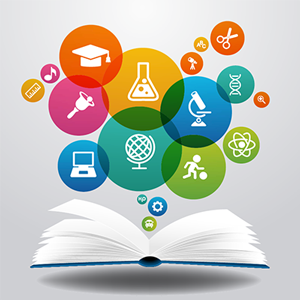 The primary goal of this project is to use computational biology approaches to better understand the transcriptomic alterations in cervical and other predominant female cancer-types with focus on regulatory controls, epigenomic alterations, and functional consequences. These studies are designed to reveal the nature of genomic alterations in cervical and other gynecological cancers, and to study the impact of human papillomavirus on the expression of candidate gene sets.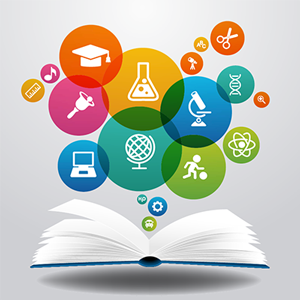 The primary goal of these studies is to define kinase isoform-specific transcriptomic landscape in breast cancer cells as derived by ChIP-Seq and RNA-Seq analyses. Early results suggest that some of these kinases repress the gene expression under basal conditions, but exhibits differential effect on the levels of expression of target genes in growth factor stimulated cells. Another facet of these studies is to also unearth the differential role of the candidate family of kinases on gene splicing, and thus, provide a set of potential biomarkers and therapeutic targets for cancer with alterations in specific kinases.